Valentinaxxx's Wiki Page
MindSay wiki pages
: Only the friends of valentinaxxx can edit this page.

Valentina: Through the Years
Me at age 3 (already a ham for the camera)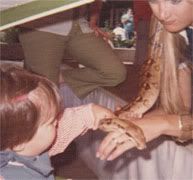 at age 2 handling my first snake at the Milwaukee Zoo (stop snickering!)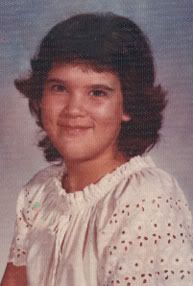 at age 12, forced to wear a hand-me-down blouse!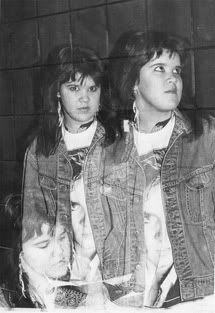 at age 16, 1986 in my favorite Duran Duran T-shirt (that's Simon le Bon staring out from my chest)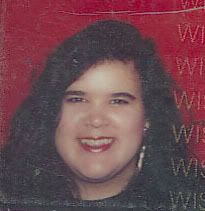 age 19, from my old ID photo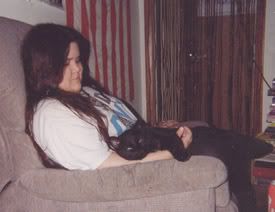 age 23, holding Nightshade, a wonderful cat I will forever love and miss!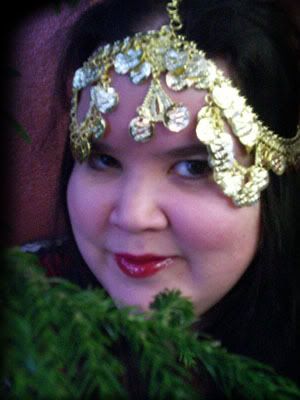 Me at age 37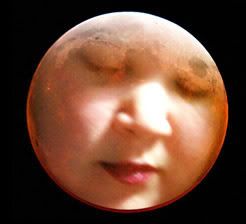 Who is this mysterious creature staring out at you from the darkness? Is she a vampire? A ghost? Or just another princess of darkness dancing with the devil in the pale moonlight? Call me a down-to-earth Witch, a practical magician, an artist chasing her dreams, a singer dreaming out loud, obsessed with finding true love, but finding more glitter than gold.
Before you get to know me, I may seem quiet or prim, I may look like I'm about to speak in riddles, but I'm something beyond the horror show-and-tell. I have a large, welcome laugh, I will keep you up all night giving you Tarot readings and watching horror movies, and, as my plus size figure will say more than words, I love good food and live for pleasure.
I suppose I'm not your typical 42year old. Perhaps it's my baby face. Most people think I am still in my early twenties. Blame it on good genes. My father is in his mid 80's, but he still acts like he's only 20 and is still kicking the shit. My mother? Well, she's a Zelda Rubenstein look-a-like; a short and sweet church lady whose personality clashes with my more Bohemian one. I come from a very conservative family, was raised in a strict Christian home, and have escaped that stifling atmosphere to embrace a much more open minded lifestyle.
What I am most passionate about is art, beauty, writing, literature, filmmaking, 18th century history, antique photography, historical fashion, fairy tales, mythic folklore, alternative religion (such as: Paganism, Witchcraft, & transcendental Satanism). I love poetry, can usually be caught in the middle of creating a new masterpiece, and I'm obsessed with fictional and mythic characters only I seem to care about. But someday you might be just as interested in them, too.
You can ask me anything you want. Nothing shocks me. Just don't ask me to conform to the mundane!
All you ever wanted to know about me*
*yet didn't ask for!
Full Name
: Valentina Marie Kaquatosh
Nicknames
: Val, Tina, Vallie, Valenteena-weena
Indian name
: Waupinkiw (WAH-pin-oo-KEY) "Morning Star Woman"
Ethnic Origin: Menominee, Chippewa, Austrian, Yugoslav
Age: 42
Height: 5' 1"
Eyes: Hazel brown with green flecks (depends on the light in the room, some think I've got green peepers, others will argue that I'm stictly a brown eyed woman)
Hair: dark brown, light brown highlights
Date of Birth: December 30, 1970
Place of Birth: Milwaukee, Wisconsin USA
Resides: in the wild ice cold tundra of Stevens Point, WI USA
Astrological information: Capricorn with Leo rising, Moon in Aquarius, Mercury in Capricorn, Venus in Scorpio, Mars in Scorpio, Jupiter in Scorpio, Saturn in Taurus, Uranus in Libra, Neptune in Sagittarius, Pluto in Virgo, Midheaven in Taurus

Meaning of my names: Derived from the Latin Valentes, participle of valeo, and means "strong, sturdy, vigorous, healthy." I was named after Valentina Tereshkova, a Russian cosmonaut who was the first woman in space. My father heard about her on TV during my birth and decided it was a very important name to give to a girl. My middle name "Marie" was given to me by my mother in honor of the French queen, Marie Antionette who is also an ancestor of mine. My mother originally was going to name me Veronica Marie Antionette but my father argued that it would be bad luck to name me after a dead queen. My last name Kaquatosh is Menominee for "Little Hawk" or "Small Hawk in the Wind."
Religion: Dianic Wicca, Native American Spiritualist
Patron Gods: Lugh, Aradia, Isis, Papa Ghede

| | |
| --- | --- |
| Ads by Google | Friends of valentinaxxx: (more) |
| &nbsp | |
Login to post a comment
. (
Create an Account?
)
Julie - Are you out there? Your blog isn't working this morning. Is it gone? Hacked? Check in, please. xoxo -Dolly
So this is what happens to dead wiki blogs. ;___; They get lost and sent here...to whoever snuggle is.
In the process of deleting your WHAT? Stop deleting stuff before I get a chance to read it! ARGH
Hey, what happened to your profile and your blog????? It disappeared. I had to find this page on Google search. I am totally confused!!!!!
Login to post a comment
. (
Create an Account?
)