Moulin Rouge
MindSay wiki pages
: anyone can edit page content/design, post comments, or find other members interested in Moulin Rouge!
Moulin Rouge: The Red Mill
Moulin Rouge through the ages: 1890, 1900, and 2000
The Moulin Rouge is a traditional cabaret, built in 1889 by Joseph Oller, situated in the red-
light district of Pigalle on Boulevard de Clichy in the 18th arrondissement, near Montmartre, Paris, France. The windmill symbol is a holdover from the time of Louis XIV, when the hilltop Montmartre section of Paris housed as many as thirty windmills. As early as the 1500s, a visiting Italian poet remarked that the windmills "turned as swifty as the Parisians' heads." The landmark Moulin Rouge red windmill was modified and reconstructed several times over the years. Today the place stands as a mounument to French culture and the Bohemian influence on Western Europe that spread during the days of the Belle Epoch 'the beautiful period' which marked the end of the 19th century and the beginning of the 20th century. To this day it remains a very popular tourist attraction offering adult musical dance entertainment and has played host to many artists and performers such as Elvis Presley, Frank Sinatra, Yvette Guilbert, Jane Avril, Mistinguett, Le Pétomane and others. Over the last century, it has grown as a legendary place of romance and decandance often portrayed in several paintings, books, television series, and movies; the most notable being "Moulin Rouge!" directed by Baz Luhrmann in 2001.
"I liked the Moulin Rouge as she was, lighthearted and hot-blooded, a little strumpet who thought only of tonight. Now she is grown up and knows better. She has money in her stocking, wears corsets, and never drinks a drop too much. Worst of all, she never sees her old friends anymore. She has gone into society. Last night she entertained a cabinet minister and his wife and daughter. It's disgusting!" -- Zidler
Baz Luhrmann is not the only filmmaker to bring Moulin Rouge to the big screen. The Red Mill first appeared on film in 1928 directed by Ewald André Dupont; a story centering on a young French nobleman's erotic fascination for an actress, the mother of his betrothed. "Moulin Rouge" released in 1934 directed by Sidney Lanfield, with a young Lucille Ball appearing as a chorus girl, is a musical comedy about twin French entertainers. One is married to a songwriter (Franchot Tone), who doesn't want his wife to return to the stage. In order to hide the fact that she's gotten a job in a musical, the married sister poses as her unmarried twin, while the twin pretends to be the married one.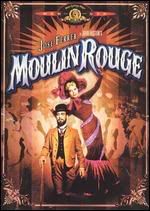 "Moulin Rouge" 1952, directed by John Huston, starring Jose Ferrer, is NOT to be missed. This movie is based on the true life story of 19th century French artist Henri de Toulouse-Lautrec. If you are a big fan of Baz Luhrmann's "Moulin Rouge!" you may be familiar with Toulouse-Lautrec as only portrayed by John Leguizamo. The real life Toulouse-Lautrec was not born a dwarf per say; his physical handicap was caused a childhood accident that stunted the growth of his legs, and he was far from jolly. Frustrated, Toulouse-Lautrec decided to "lose" himself in Paris' bawdy Montmartre district. He becomes a brilliant painter but this career only brings him profit when he creates posters advertising everything from the Moulin Rouge to wine. To this day, his posters litter the walls of art lovers world-wide and his work has influenced the likes of Picasso. Unfortunately, Toulouse-Lautrec's drinking and debauchery lead to his early death, which in the hands of director John Huston is staged in the manner of a musical comedy finale. This is the film in which Zsa Zsa Gabor actually acts, in the role of demimonde entertainer Jane Avril. As a bonus, the film's musical score (by Georges Auric) managed to hit the Top Ten charts in the U.S. When this immensely successful film was released to television in the late '50s, Moulin Rouge proved to be one of the strongest-ever incentives to purchase a color TV set.
"The greatest thing you'll ever learn, is just to love, and be loved in return..."
The story of Moulin Rouge 2001 echoes the Orpheus myth; the ancient Greek story of a young poet who must descend to the underworld in search of his true love whom he seeks to save from death, but ultimately loses her because he dares to look back... "It's a myth about idealism and adulthood, and the recognition that life throws up things beyond our control: the death of loved ones and relationships that don't last," explains Baz Luhrmann, who co-wrote (with Craig Pearce) and directed the film. "According to the Orphean myth, this will either destroy you, or you'll go into the underworld, face it and return having grown from the experience."
"Mouline Rouge!" is a musical fantasy centering around the Orpheus of Luhrumann's re-invented exotic view of the Belle Epoch; Christian (played b

y Ewan McGregor) a penniless writer who defies the morales of society and joins the collectively colorful and loud clique of Bohemians led by painter Henri de Toulouse-Lautrec. The Toulouse-Lautrec of Luhrmann's fantasy underworld is a jolly, sentimental dwarf acting as an empathetic guide for Christian and who directs him to taste forbidden fruit (a sip of Absinthe; also known as The Green Fairy) and helps him meet his fate; to fall in love with courtesan Satine (played by Nicole Kidman). Christian's journey of discovery and romance is doomed from the start, but this does not stop him from embracing hi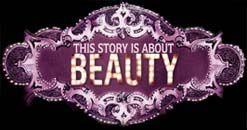 s dreams.
As part of Baz Luhrmann's 'Red Curtain' trilogy, this is a film that celebrates singing and songwriting. As he did in his previous films, "Strictly Ballroom" centered around dancing and "Romeo + Juliet" paid tribute to acting, "Moulin Rouge!" is Luhrmann's tribute to big screen musicals; blending period music from the Belle Epoch with contemporary pop music through its use of established songs from many different decades in the 20th century. It was suggested by Luhrmann that the character Christian was a legend before his time, coming up with musical arrangements and song lyrics that pre-date the era of the film. Spension of disbelief is strung up on a tight rope walker's toes as audiences are dazzled by out-of-this-world special effects and a kaleidoscopic cavalcade of can-can dancers, acrobatics, lustful heart-throbbing grand opera performances, sparkling sets, and extras decked out in eye-watering flamboyant costumes.
But the story of the film doesn't completely center around our poet Christian, does it? It is also the story of the marvelous courtesan, Satine. Satine
is Moulin Rouge's top star and, like her namesake, she sparkles like a jewel. Like many of the famous courtesans of the Belle Epoch, she finds herself thrust inbetween two suitors; one whom she truly loves, a young writer with no prospects, and the other a man obsessed with wealth and privledge.


Moulin Rouge & the Courtesans of the Belle Epoch
Courtesans of the Belle Epoch are the ancestors of the modern mistress. It is incorrectly suggested in Luhrmann's "Moulin Rouge!" that a courtesan is a whore; a woman who sells herself to make a living. Courtesans did not have to sell their bodies to get what they wanted, all they had to do was be the life of the party and amuse men. Courtesans were highly favored women in turn-of-the-century France because, unlike wives, a courtesan was free to do as she pleased and, because her L'Amour may be dangerously short lived, she gives each affair all she's got. The men who fall for her give her gifts and luxuries she could never attain if she settled down to be someone's wife. The world's greatest courtesans had kings and world leaders clawing at their feet because they were highly skilled actresses, singers, and performers who were masters of the art of seduction. Not only were they sexy, they could also be intellectual equals to men and were preferred companions. From an early age courtesans were well educated and provided for, many of them the daugters of ex-courtesans who managed to marry well or, in some cases, hadn't married but needed an heir to take over the "family business." Ordinary men were no match for a courtesan -- she was born and bred to fulfill the desires of extraordinary men, so it is no wonder that the character Nini in Luhrmann's "Moulin Rouge!" objects to the courtesan falling for the penniless sitar player!
"I don't need you anymore! All my life you made believe I was only worth what someone would pay for me! But Christian loves me. He loves me! He loves me, Harold. And that is worth everything! We're going away from you, away from the Duke, away from the Moulin Rouge!" -- Satine
Moulin Rouge was known for being a "Palace of Women" and long before the paintwork had even dried on its exquiste interior, the place was mobbed by a booming middle class of men who could now afford the luxury of live entertainment. Though springing from the same working class as the prostitutes, courtesans were distinguished by the length and high-style of the relationships they formed (with, near exclusively, the elite of Europe). Like today's film stars and super-models, they were also cultishly observed by press and public. If the Moulin Rouge had been built in a more contemporary age, think of it as a can-can-besotted version of Steve Rubell's disco-crazed Studio 54 crossed with Bangkok's sex market meets Mardi Gras' carnival. In Baz Luhrmann's "Moulin Rouge!" Satine would have been as big as Madonna is today, and yet she is kept caged at the Moulin Rouge because her presence there brings in the crowd and pays the bills. If Satine were real, she could've left the Moulin Rouge on her own, took the Duke for his money, and run off with Christian if it so delighted her. In any case, it's her life that is doomed and serves as a sort of metaphor for the struggle of women's freedom that was precident at the time. Satine's life, much like the lives of turn-of-the-century women, hung in the balance according to men's needs and not their own. Women can only be wives or whores, they cannot be free to live independently. So, because she is born before a time when she could chose a life on her own terms, Satine must die; death is the only way for her to "fly away."
"You can Can Can everyday
At the Moulin Rouge cafe
Every day, s'il vous plait, be tres gai,
Drink cafe, eat flambee, wear lame,
Be risqué, s'il vous plait, everyday, ole, ole!"
-- lyrics from "Can You Can Can?"

The Can-Can is a hybrid of the Polka and the Quadrille and was said to be first danced during the Second Empire in 1822, and by 1830 was being outlawed for a number of years as immoral. Originally, the word Can-Can in French meant "Scandal," or Edge, since they usually danced on the edge of the stage. It was said to be not only immoral because the dancers show their legs (highly taboo at the time) but the audience could peek at the dancer's panties (or lack there of as the case may be). It was also considered a dangerous dance to perform because it took a lot of energy to keep those legs pumping into the air. Some women fainted from performing the dance for hours on end and some fell off the edges of tables and stages, often breaking their legs and backs. Only dancers with a strong sense of balance and grace, as well as a bowdy deameanor, could perform the dance with little danger of injury. Originally the dance was made for couples, but after the Second Empire, women had made it their own. The famous can-can dancers of the 1890s, like La Goulue, eventually made it a professional dance, earning high wages at the Moulin Rouge. The element of skirt manipulation, essential to the cancan today, only really became part of the cancan in the 1890s, with the appearance of the elaborate erotic underwear characteristic of the time. The dance was tamed down in the 1920's, becoming more of a standardized spectacle for a more broad audience and is now a dance representative of the French people.
Discover more about the Moulin Rouge: Fact & Fiction
Moulin Rouge! movie Links:
IMDB.com - website for Baz Luhrmann's musical.

Club Moulin Rouge: the Official Movie Site

Quotes, Lyrics and Magical Songs
Ads by Google
Members interested in Moulin Rouge: (more pictures)


Put 'Moulin Rouge' in your profile to be listed here.

&nbsp
Login to post a comment
. (
Create an Account?
)
Okay, I just finished stuff here. Hope you like what I've added!
~V
Thanks for making this page! One of my favorite movies... *sigh*
thanks! Glad you like what I did with it. There have been many movies based on the Moulin Rouge, but I have to admit the one with Nicole Kidman and Ewan is by far the most entertaining.
Please excuse my mess... I'm trying to update and add new information about Moulin Rouge. It's going to take a few days to fix everything, so don't panic, some of the previous pix will be added back later...
~V
I hope you don't mind, I hope you don't mind that i put down in words how wonderful life is now your in the world...
I absolutely love Moulin Rouge... one of my favorite movies!!
Login to post a comment
. (
Create an Account?
)