Radio @ MindSay
Related tags
It's Not Just A Job, It's An Adventure !
(note - some of the links below are to pages with more photos/info about the stations mentioned )
For a bon voyage gift I took a cotton jacket to the tee-shirt shop and had lettering added to the back :
"Disc Jockey : It's Not Just A Job, It's An Adventure ! "
Now HOW, you ask, can DJ work be considered an adventure? Man oh man, you don't know the career my sister has had (so far ) !
First off, I'm not talking that rap crap record scratching noise that earns some club clown a DJNoTalent nickname, I'm talking "Radio Personality" , or across the pond, "Radio Presenter". Of course there have been a few over the years that have gotten national fame, usually the shock jock type, but in the industry, there have been names from big markets that get to be known by the personality they bring to the airwaves - think Wolfman Jack.
And somewhere, just below that stratosphere are a legion of lesser known but highly regarded professionals. I think I can put Sally there without either embarassing her, or dissing her. First off, she's the middle of my three older sisters and I remember well when she went off to college. She went way north to University of Maine at Orono, and became a Maine-iac for life. I think she began in journalism studies, but after freshman year she transferred back closer to home, enrolled in the U of Md School of Radio and Television. Something to do with not liking the deadlines of newspaper writing, which is kind of funny given the type of radio work she has most recently been involved in.
First though, comes the name. I don't know the story, but she settled on Jessie, Jessie B, a nice ring to it and a little more rock n' roll and less 'girly' than Sally, LOL !
While she was at Maryland, she began working a small A.M. station in our hometown, WLMD 900, a sunrise to sunset low watt station that was hidden down a long dirt road in the woods adjacent to the swampy Patuxent River. I remember she got Dad's old Plymouth Duster and it was ALWAYS muddy! I would occasionally ride my bike down the path, around the water-filled potholes, towards the big radio antennae sticking up above the trees to the little white house that served as the station. It was cool as hell for a 13 year old to stand in the lobby looking through the glass into the studio and hearing my sister's voice coming over the speakers!
src="http://img.photobucket.com/albums/v604/bbmyls2go/WLMDpic400.jpg">
They were what I guess would become known as progressive rock. I know there are a few on Mindsay who are familiar with the old WHFS, WLMD could have been it's kid brother. Sally had, over the years, always shared her love of records and music with me. She introduced me to John Sebastion, Steve Miller, Franklin Ajaye (comedian), James Taylor, ELO, Firesign Theatre. She'd recommend albums, invite me to the stations she worked at, and even let her 15 year old little brother tag along to a CSN&Y concert at Merriweather Post Pavillian one summer. We share a common sense of humor and I still remember going to a movie with her, Mel Brooks "High Anxiety", a takeoff of all that is Hitchcock. And in one scene, riding in a convertible, the main characters are talking, one a psychiatrist investigaating why the other, who suffers vertigo (wink!), is being commited to a nuthouse. As the discussion progresses and the mystery and possible conspiracy is brought out, the tension is rising! the threats are being revealed! the guy is in TROUBLE! and suddenly you are aware of the soundtrack and that the orchestra is getting ridiculously loud and reaching a cresendo, when the two characters look at each other and say almost at the same time Sal and I looked at each other, where the hell is that music suddenly coming from? And then, pulling alongside their car, is a bus with a band on it, playing the background music. Funny as shit!
Uh, where was I? Oh yeah, music, concerts, and her radio station. She shared it all with me from the time I was a kid. I forget some of the local stations she worked at early in her career, I guess both while she was going to school and after, because she was still local when I was in high school and occasionally scored me some give-away tickets - the best of them being very close to the stage tickets at a Bob Seger show at the then new (and now wrecking-balled) Capital Center. I think she may have even done a country stint at one point! WMZQ in Virginia, I think. She went up to Conneticut for a while and worked one or two stations in the Hartford area (I dont have her resume with me so I'm just going with 20 year old recollections). One was a rock station run with an all woman staff , call letters, appropriately enough WOMN. Then to the bigger rock station WHCN. I finally went off to college myself while Jessie got a great gig in Seattle (where our oldest sister lived) at KISW. By now, half my tee-shirt collection relied on her jobs and payola - the coolest being one of a giant ear, the logo for the Manfred Mann Band "The Screaming Silence" . In Seattle she had her first real taste of stardom and was a huge hit, I think she was on the afternoon drive, with the young rockers who had not yet morphed into little grunge meisters. She told us once of finding her name graffitti/scrawled on a school wall and knowing she was a hit!
Then the adventures really begin! I was in Tallahassee at FSU, our other sister in New Orleans, and Mom up home in Maryland. Holly and Mom teamed up and I met them and we all met Jess/Sal in Ft. Lauderdale, FL. She had responded to an ad put in the trades for DJs to work on a Pirate Radio station. Pirate Radio, if you've never heard the term, refers to any 'illegal' or unlicensed broadcast station. They were, and are, legion in Europe. Better yet, they became truly PIRATE, by being based onboard ships moored in the North Sea where they were in international waters and thus, not technically in violation of any nation's laws. Of course England didn't feel that way. With their huge state run broadcast universe consisting of BBC1, BBC2, BBC3, and a couple of radio stations. I saw a cartoon joke of that once, a guy changes channels on the english telly and sees the exact same program on all 3 channels and when he turns to channel 4, it's a guy waving a gun saying "change back to the other channel". So, Jessie has not only agreed to accept a job with this new outfit called Laser, but she has signed on to get onto the Panamanian registered freighter, the MV Communicator in the U.S. and sail with it on a 'shake down' cruise across the Atlantic. Now this was no big boat. I bumped shins on the entryways, and bumped my head on the ceiling lots of times in my short visit aboard. Quarters were cramped, the 'studio' even crampier. http://ourworld.compuserve.com/homepages/tony_horsman/laser2.htm  The plan was to attach the antennae rigging to giant ballons that would be floated above the ship after it moors to a permanent anchorage in the North Sea between Ireland and Great Britain. It was in Florida that I gave her the "It's An Adventure" jacket. And off she sailed into radio history! http://www.anorak.telinco.co.uk/communicator_at_sea.htm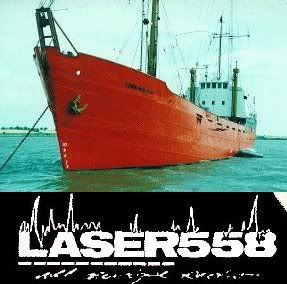 Actaully, pirate radio has a long history, and before Laser558, was the queen of all pirates, Radio Caroline. http://www.radiocaroline.co.uk/  But Laser558 was trying something new. They were bringing AMERICAN voices, and AMERICAN rock, to the European airwaves. http://www.eylard.nl/OffShoreRadio/Laser/index.htm  The idea was "you're never more than a minute from the music". So in effect, the djs wouldn't get a chance to show their personal sides as much as they were used to in the US. Now Jessie has a silky smooth voice and fun, ribald, laugh - VERY distinctive. So she didn't need more than a minute to make a good impression. Between song intros, commercials, and news announcing, her voice stood out and she fast became a favorite. I can't tell the stories that she can about that period of her career, but it was simply incredible. They survived technical difficulties, British government condemnation (Britain would not let them be supplied from their shores),
British fan support (fans who motored out to the sea in their own boats to meet the crew, and bring them supplies clandestinely!), sea storms (force something or another gale winds), and I would assume, their own personal demons as they were a group of jocks, techs, and a sea captain, all with very different personalities living on a pretty damn small boat.

I'm not sure how long that lasted, about a year, maybe? When she was done with that gig, at one point, back in Maryland, we received a big crate that held her personal footlocker accompianied by a letter from British authorities who had 'confiscated it' and would not let her into England to reclaim it. She was persona non grata! But the Brits loved her and the big commercial station in London, Capitol Radio wanted her bad. But she could not get a work permit. I think for the meantime, she worked an Irish station before returning to the US. Radio Nova was the name, and if you visit this link of audio archives, scroll down to the entry for 1982 and catch a short soundbyte of Jessie on the air :  http://www.mediaireland.net/irishpirates/nova_jingles.htm  When she came home, Capitol Radio had a solution - they put her up in a hotel room in Manhattan and bought satellite time from, I think, NBC! Jessie went on the air for a couple of hours every day at the studio broadcasting live to England! I got to go visit her in that studio, too!
After that contract ended, she returned to work at other stations which I've probably forgotten. I do remember helping her move down to the Raleigh/Durham area where I think she was on the air with rock station WTRG for 2 years or so. Then her international exposure again brought results. Working on Laser558 she got to know a lot of people both on the boat, and in the European radio industry community. She got a call from someone she had worked for, maybe a programmer at Laser or more likely Capitol. They had an opening in Luxumbourg!
It was Radio Luxumbourg and they had a certain part of the day dedicated to English language programming. English jocks, I think, playing Euro rock and they had a slot and wanted Jessie to come join them! So off she went and moved into a little apartment there in the capital city. At about this time, I was going to Africa on my Somalian expedition. Going to keep a construction site free from Weapons of Mass Destruction or something like that. After several months of swatting flies, I got my papers to go home.
My departure was unexpected and I couldn't find out why I had been dismissed from my security duty. I was a little pissed. OK, a lotta pissed. And I said my goodbyes to Tom D the team leader and the guys who had been my housemates. I gave my boombox to JaJa, our driver, and he now had the coolest taxi in all of Mogadishu. I had to toss all my laundry in a box and leave it at the curb to save shipping costs. Somewhere in the 3rd world slums of Mog is a little skinny black kid wearing a KISW ROCKS ! t-shirt, LOL!
On the flight from Mogadishu to Kenya, I had an idea. I called the states and asked my boss if it would be a problem if I didn't come home for 2 weeks. He said go ahead, have fun, just check in for debriefing as soon as you get back (I never did learn why the govt.refused to grant me Top Secret clearance which I needed to stay at my embassy securtiy post - I'd been given a Secret clearance, but the company who hired me felt it was easier to release me than fight big brother ).
Then, on the flight to Frankfort, Germany, I told a stewardess my plan. I'm going to get off the plane in Germany and take a train ride to surprise my sister in Luxumbourg! From there I could train it to Paris, then ferry up to England and London, grab a fast sidetrip to Ireland, and return to London and reboard PanAm at Heathrow for the remainder of my return flight! She laughed and reminded me my luggage was stowed for Dulles Airport, that I was wearing shorts and a hawaiin shirt, and that it was 38 degrees and snowing in Frankfort. She stuffed a blanket into my briefcase with 3 Heinekin tallboys and told me that should keep me warm, and told me to just return the blanket when I get back on in London. And so I got there (Luxembourg ), got a taxi, and knocked on Sally's door, SURPRISE! It was a fun, short visit. We toured the city,
the escarpments, and over to the French and the German borders. I have photos of flooding in Vianden, and of a castle high on a cliff that looked like it was from "Frankenstein". St. Patrick's Day was during my stay and we joined several of her friends at a local pub - she had to leave early because she was on the air in the evenings. I don't recall HOW I found my way back to her flat! Since then I've always felt Sal and I were true world travelers, a brother and sister both pursuing different careers that allowed us to travel and now gave us a common road story of meeting in Luxembourg. Cool! rock on, Sal!
So I came home and returned to my PI business and a year or so later Jessie returned and got back to business in the states. I think by this time she had answered a DC ad for a jock to play jazz music. It was a new format just then sweeping the nation easy listening jazz. She was at one station for a while and I think they went under, but the big outfit that does EZJazz all over the country bought a local station (WJZE ), and she got a call asking her to come aboard with them. Pretty smooth transition for a smooth voice!
It was another year or two and I made my change to trucking and Sal was on leave from work when she accepted a parttime gig with a DC area news and traffic outfit. And thus, a circle for her was completed just as it was for me! She was now a news announcer, researching, writing, editing, and reading news - just the kind of deadline crap she wanted to avoid 20 years earlier, and me, you know my story, I wanted to drive a truck before being sidetracked to college for a law enforcement career hunt only to now find myself behind the wheel of a big rig.
After a couple of years, there was somebody in DC who heard her voice, and it rang his bell! By fate, she had had to join a union to do the news gig, thus putting her name in a database. The guy who remembered the voice of Jessie B from her days in Pirate Radio when he was growing up in England, tracked her down and offered her a job. He was now also in radio, he was now also in news! He was starting up a worldwide news syndicate (if you listen at all to FOX news, you may have seen or heard him, " And now we're joined by Simon Marks, chief correspondant for FeatureStoryNews " ) - http://www.featurestory.com/  the kind that offers 'news packages' to subscriber stations around the world. South Africa wants an hourly update of London news. London wants a 5 minute political report from DC, DC wants a 30 second world headline bit, etc, etc. And shazamm, Jessie switched over to Featurestory
.
She had been there for a number of years when our mom suddenly became very ill during one of my weekend visits home (after I left to be on the road, mom began to show signs of senility and Sally came home to live at the house so she would have someone around for at least part of every day). Mom recovered from the never explained medical emergency, but it was apparent the stress had accelerated her problems and that she really now needed someone to be with her as a companion 24/7. We discussed it as a family, both Sal and I had careers we could step away from without losing our place professionally, and it was decided Sal would hang up her headphones and I would return to the road (I had taken 6 months off while we decided what course to take).
And so Jessie was off the air. But did her little red light go out? NO ! Because of her years of experience and her number of fans both in and out of the industry, she has remained in touch not only with her news boss, but other radio contacts who she occasionally travels to London to see. (and of course, once a Maine-iac always a Maine-iac, so road trips to Bah Ha Bah are also a summer routine ) Last year, one of her Brit (or is it Scot? ) friends told her he was going to start a new radio station, on the Isle of Man. Would Jessie do some work for him? Aw, I know it's hard for her to have that dangled in front of her - but she has done occasional promo stuff for him using the DC studios, and now, as the station start up is getting close, she may again return across the pond and do a 3 or 4 week stint on-air. The boss wants to offer Jessie B as a headliner to get the audience to tune in for the first weeks of the new station's life - we're all waiting! 
Stay tuned, it may happen later this fall - if so, I'll share the news with you and hopefully the station will have a webcast available so you, too, can listen in to the smooth rock voice of Jessie B, PIRATE. (the adventure continues! )
ps - interested in pirate radio?  just google it, laser 558 or radio caroline to get TONS of articles.  The story of Laser558 is even told on CD! www.radiofab.com/index.html

Update - in the fall of 2009 Jessie was invited to the awards prsentation called Radio Days in Amsterdam - they were celebrating the 25th anniversary of Laser 558 and Jessie and some of her co-workers, shipmates, and backers all attended and sat on a panel for story telling and Q&A - she was presented with a "Radie" award for "Outstanding Contribution to Offshore Radio".
http://www.radioday.nl/2009/2009.htm
Sometimes...
...the radio is absolutely terrible.
But sometimes... it is just absolutely amazing.
Case in point, I went out to CVS tonight around 8:30 (it closes at 10 apparently) to get something I needed. They were all out, and I needed it tonight. So the nearest CVS that had any in stock...20 miles away. Yeah. NOT excited (but tempted to sleep at my parents tonight because hey, what's an extra 10 miles when you're going 30 out of your way?).
I get in the car, and what's on?
Hotel California
. And I'll have you know, the DJ was kind enough/smart enough to play the
real
version; the six-and-a-half-minute version. Perfect. So how do they one-up themselves with that one? Oh, they put on
Lola
by The Kinks. I used to have a cat named Lola, so that song has always meant a lot to me. And then,
Instant Karma
(John Lennon) made its way into my ears.
Then, I wasn't in the mood to listen to Santana's
Smooth
(I ODed on that song when it first came out), so I switched over to my beloved hard rock station...and was met with Filter's
Hey Man, Nice Shot
.
<3333
Life
A few random updates just because I can:
-- I'm looking for a good book (or two, or hell, three) to read. I know SOMEONE on here is a bibliophile and can recommend something to me.
-- The parade today made me cry for 2 reasons. First, because when I see this old men in their uniforms, I'm forced to think of how much they risked so that other people could have what was deemed a better life. I am not a fan of war, but I'm more against the bureaucratic decisions to GO to war than I am the men and women who follow orders and fight for millions of people they've never met. I absolutely support TROOPS. I also cried because of the low turn-out, related to reason one. These brave people put so much on the line, actually risked their lives for us or are doing so currently, and I'd say less than 100 people managed to give up 20 minutes of their day to come out and say "hey, thanks for doing that".
-- The odds of me being given a pink slip on June 1st are about 99.99 to .01. Sucks. You know the situation is dire if even TEACHERS aren't guaranteed a job next year :(.
-- It's finally warmish up here; not what I want (I would be happy if it was 90 every day, and then December it dipped down to...67 (with some snow every few years), but it's warm, and I'm so much happier with it.
-- I took my mom to go see
Star Trek
today. I do not go see movies in the theater, but I felt compelled to go out and spend money and pretend to be normal, and I never really liked Star Trek, but enjoyed the movie a lot. More than I thought I would. Go see it.
-- I went for a 5-mile walk yesterday, and it was absolutely awesome. I walked to the high school for 2.22 miles, around the track twice, and then back home. It was the first time since getting the warning on Friday morning that I haven't thought about the fact that I'm probably going to be let go. I just put my iPod on low and worked up a good sweat (definitely never realized how steep North Street is because I've never walked up it before) and cleared my head. Realized that if I work at camp this summer, I could EASILY leave at 7:45 and walking, get there by 8:30 if not earlier. I'd leave earlier than that because I'm insane, and then I'd already be sweaty to start a full day working at camp, but it's totally doable.
-- Speaking of camp ... is it really 10 months today, Sammy? Did we really lose you 10 months ago today? That can't be possible; that doesn't feel real. I think about you every day; absolutely every day, if not more than once each day. When the clock says 8:13, it reminds me of you. When I hear Incubus or Kenny Chesney or Dierks Bentley on the radio, I close my eyes and float back to our trips on the bus. People quote Napoleon Dynamite all around me, but none of them bring a smile to my face the way you did when you'd ask me if the chickens had large talons.
Sometimes, I think about how unfair it is that we had so little time together. We were friends right away, and you were so welcoming of me even though I was brand new and you were working with people you grew up with. I always admired your heart and your spirit and your smile, and I wish we'd gotten to know each other even better. I wish I had reached out and overcome some shyness and approached you after our summer together was done. I hate the fact that I'll never get to (at least, not on Earth). I love that I can't shake you, though. That I'm constantly reminded of you, that you're all around me, and that THAT knowledge pushes me to stay connected to others. You inspired all of these letters I've been writing, Sam. Maybe one day I'll get brave and write you one. But in the spirit of not letting people slip away, I'm going to go call Lisa.
My Paul Harvey obit
One of the great commentators was Donald Kaul, who wrote for the Des Moines Register for years. And when Richard Nixon died, he did not mince words, pointing out in no uncertain terms that Nixon represented the worst tendencies in American life. In that vein, let me reminisce on radio personality
Paul Harvey
, who just died at age 90.
Paul Harvey had the most formulaic radio program imaginable. He perfectly represented the
smug
, narrow, judgmental, jingoistic attitude of conservative-leaning postwar America. He regularly ridiculed liberals, foreigners, and racial minorities. He even manipulated religious notions like God,
salvation
, and miracles for his own benefit.
He hawked crappy products as if they were part of his regular report -- like
Citrical
-- and made millions of dollars every year off such snake oil. His delivery was equal parts self-congratulation and self-righteousness, with false folksiness and dramatic pauses only an idiot could love. He regularly manipulated stories to fit his "Rest of the Story" surprise-ending BS lies. He set up his no-talent son to be his replacement. In all, Paul Harvey was a self-promoting hack who capitalized on the cheap, sentimental, fearful notions of ignorant Americans. With his death, we have lost a me-first purveyor of lies.
Good
day
!
Showing 1 - 5. [
Next
]
Re: medication related rambles - I don't take Norco anymore, it was what I was given a couple different…