Halloween @ MindSay
Related tags
Needed a Joker thoughhhh
I changed my mind and don't want to actually blog about Halloween anymore, even though I said I would. I spent my night with Jen. We went to a cheap haunted house, I got offered a job, we went to Dish's lame ass fucking party and peaced the fuck out asap, and we ended up at Cricketer's (which is Jen's favorite bar).
But I have a few pictures though I'm sure everyone's already seen in me in my Harley Quinn getup by now lol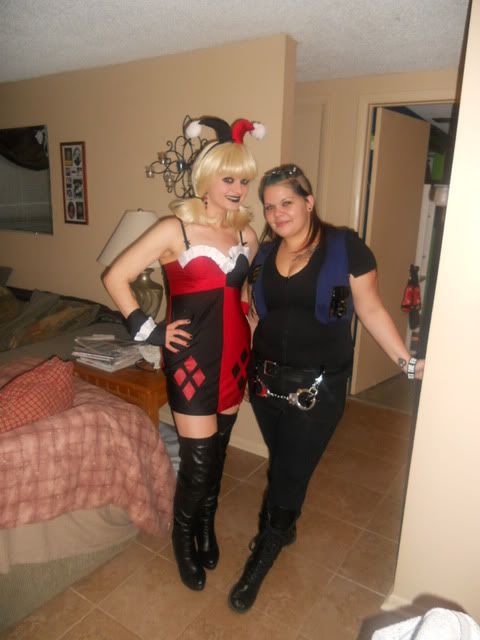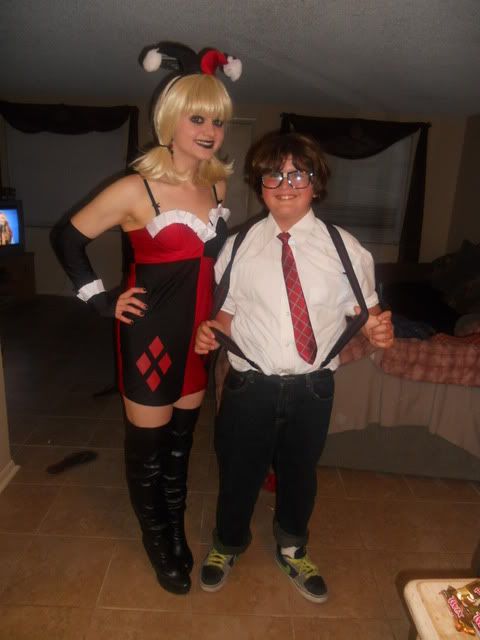 idgaf I was impressed I could drive in these because normally I take my heels off and drive barefoot but I was not dealing with getting in and out of these bitches
note that I was already bad ass enough to own these earrings, they did NOT come with the costume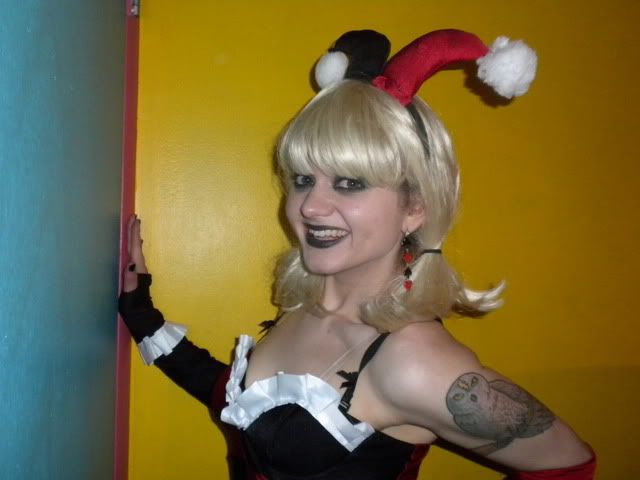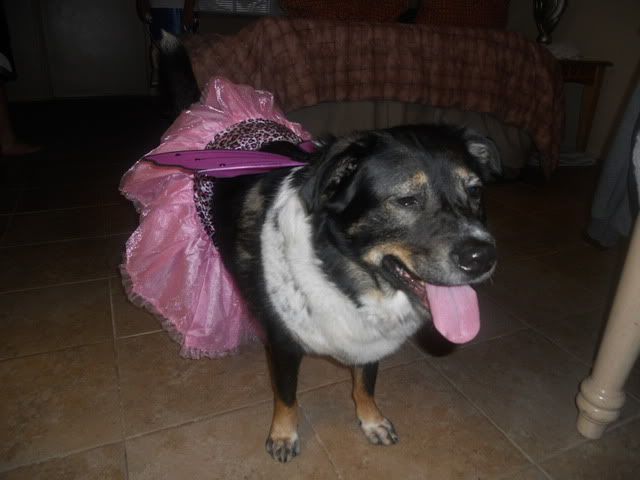 One of these days it all comes together.
Last night after sex I was told, "I was afraid I was going to break your glasses," lmfaoooo
My glasses are my security blanket pretty much, I hate not wearing them any time (this is why I don't often wear my contacts) so even during sex I try to keep them on as long as possible lol they usually end up having to come off
I get Louie's house this weekend!! Well they are leaving early Sunday morning so I'm actually staying with Lou and Tiff at their house on Saturday night, I'll see them off Sunday morning and then that fucking house is mine until I go to work on Thursday. fuck yesssssss SO EXCITED.
I bought my Halloween costume the other day!! Going to be Harley Quinn. But, you know,
this sexy version of Harley Quinn
. I'm a little upset though because I had to buy a size up so the damn dress would cover my ass so it doesn't quite cling to my curves like it should but whatever whatever. Now I just need something to do on Halloween. To be honest I had just assumed I would be spending Halloween with Dish and at least some of my other boys but there is a situation going on with Dish's house that may prevent him from having a party so who knows what I'll be doing but I fucking have to do something. Louie was going to throw a Halloween party that weekend (he refused to throw it on actual Halloween because it's a Monday fuck you Lou) but I am not going to be here that weekend* so I pretty much forbade him to have a party without me. Now we're going to have a pre-Thanksgiving party instead, the weekend before Thanksgiving. lmfao.
*by the way, not going to be here Halloween weekend because Beccaboo and I are are driving up to Atlanta to stay with Alex and we're also going to see Jay-Z and Kanye West. We'll be home for Halloween here, but I bet we're going to miss out on weekend Halloween festivities while in Georgia. Totally worth it, of course. But I have this damn costume and I need to wear it!!!
It's been a while..
I don't honestly remember the last time I posted something on here haha.. I have had so much happen to me over these months, possibly years since I last posted.. I'm just going to start fresh and roll the dice and say what I need to, regardless of how much sense it'll make, because it'll make sense to me and if anyone is still on here and wants to know, feel free to ask lol.
Let's see... I'm 21 years old, living my own place with a couple of roommates, moved out of my parent's house about a year ago when my most recent ex left me the first time. I felt the need to rid myself of my old world and that room we were always in together, so I left my parent's house and moved out. From there I got a temporary job at Autoliv, where I met Eric and became one of his roommates in a house in Ogden Utah. I ended up getting a job at L-3 Communications in Salt Lake City and commuting back and forth from Ogden to Salt Lake, but for the job it was definitely worth it and I loved it there.
My ex, Jordan btw, came back a few months into my new life without her, we worked things out and stayed together for the remainder of the time I was working at L-3.. From the job in SLC and the house in Ogden I moved into a nicer house with my friend Fredy, his girlfriend Chealsa and their one year old son Alex. A 4 story, 5 bedroom, 2 bath, 2 living rooms, a kitchen and garage, complete with decent size backyard, they took the top, I took the bottom and we shared the middle two levels. Things were going well, we had resumed talk about moving in together and marriage and all that other stuff that comes with time, we had been together for over 2 years at this point.
Eventually I lost my job at L-3 due to an accident with my medication, I fell asleep on the job and they didn't like that very much, so they fired me. Within that same week my girlfriend started stressing that we could never have a stable future since I'm always hopping jobs after 6-9 months, so she felt it would be best to go our separate ways.. She was also worried she was never going to reach goals she had made for herself, like going to school and having a family and such, there just wasn't enough stability for her, and I don't blame her for leaving..
And that was the story a month ago.. She left me, I lost my job, and I was told I need to get rent covered or I'd lose my home haha..
Right now I am trying to get my life worked out and fixed up as best I can with the tools I have. I applied, interviewed and am awaiting further instructions from L-3 Communications, yeah the same place I worked at before, about a job in a different department. I am also trying to decide if I want to join the Air Force, apparently you need to score a 30+ points on your ASVAB to even get into the Air Force and I scored a 70, easily haha.. On my practice test I actually scored a 77; on the ASVAB the lowest I got on my 4 score section was a 68, the highest was 78.. They told me I can have just about any job I want based off my test score, if you know me, you know that having options is my downfall, I always brush it off to the side when I have too many options.. I am still losing my home, but my parents said if I'm joining the military, I can stay there till I get sent out. When I get this job at L-3 however, I am going to try to move to Salt Lake City..
My ex, Jordan, is off living her own life and I am living mine. We aren't really talking and it's probably for the best.. I don't regret what I had, but that's not to say I don't miss it horribly bad.. Everyday I get a little better though and everyday I try to make a better life for myself, so I think I'm doing alright! I'm even kind of dating again haha.. At my friend Quang's Halloween party I met a girl named Courtney and we've hung out a few times, we talk and whatever, she's really cute and I wouldn't mind pursuing her, but she said she just wants to be friends, so until she's ready, I'll just be myself around her and her friend. There's also Amy, a girl I used to go to school with when I first moved out here haha, we're supposed to go on a date but she's always really busy, and I'm just leaving it up to her. Other then that, I guess I'm just trying to live my life..
I've pushed myself to be more outgoing and social, I've got crippling Depression and Anxiety, but after Jordan left the first time I checked into medication. I'm not taking anything anymore, been about many months since I took it regularly and I still get a little down when I take things the wrong way, and I still get a little anxious in crowds and stuff, but I am doing well enough without them, even with how my life has been going haha. I am just trying to look towards a good future and take things one day at a time.
Since she left I have gone to Wendover by myself lol, Vegas with friends I just met, but they became really good friends! Mandi and her husband TJ and the birthday girl Chels, along with Natasha and her boyfriend Hunter. Natasha has actually helped me out a lot with advice and just being a really great person to talk to, it's been real haha. Let's see.. I also went to a few parties, hung out with my family more and even with my brother! I've gone to the bar a couple of times with friends, back to back weekends if I remember correctly! Let's see.. oh there was also Quang's Halloween party one weekend, then hanging out with Courtney at The Bayou in Salt Lake, her idea haha, and then we went to the Utes VS TCU game, snuck in actually! It was a lot of fun just being with new people and making friends.. Being with Courtney was really great too, she's a way cool girl but she's just complicated lol..
Anyways, I think that's enough of an update after so long, I hope to get on here regularly again, so yeah, later days funny faces!
Christopher.
All Hallow's
Reasons Today was AMAZING:
- I turned my project in for the class I'm taking, nervous that I had overdone it and people would be mad at me. I DIDN'T - some people went INSANE (like, wrote the whole thing in stick-on felt letters). I guess now I should be nervous that mine isn't spectacular enough, but in real life, I know that all of my content is stronger. Fact.
- I was just thinking about how maybe I have to revise my 'winter is the worst season' stance and switch it to fall because winter is meant to be cold and grey and depressing, it's just doing its job, but fall... fall is where summer goes to die. Or, kills summer.
And then today? High of 77. In Western Mass. Where it took until June to break 60. <3 Two degrees off the record high set somewhere in the 1940s. Tomorrow will be back to regular, and I'll always resent winter more than fall, but ... thank you, today. You were gloriously warm.
- My project I've been working on for Michael's X-Mas present (you know, since I can't buy people presents thanks to not having dinero) has officially passed over the one-foot mark, making it OFFICIALLY me attempting to make a scarf. If my camera weren't being a stupid and not working, I'd take a picture for you. You can google 'moss stitch' and get a basic idea of what it will look like.
- Remember when I was all sad and stuff that this was going to be a mega-lame Halloween since I'm jobless, have no friends, and thus no excuse to dress up? I mean, I wasn't DEVASTATED because I'm not all that into dressing up (if you are facebook friends with me, one of my profile pics is me dressed as Michael Jackson before he passed and it was cool to dress like him. This is the only time I have ever really dressed up for Halloween since I was in 4th grade), but just the knowledge that something important was happening and I was going to be excluded was really weighing on me. It was like 'one more thing in my life that is stalled'.
Well, I got a call asking me to come to Manhattan on Saturday for an interview. It'd be with a family not a school which isn't the dream, but employment is.
Anyway, did you know that Manhattan is
RIGHT NEXT
to Brooklyn? Where Lisa lives? And is having a party Saturday night? At the apartment I'm staying at? Which will be visited by amazing people I know and love?
I cannot find my beautiful, free, red zipper coat, so I can't be EJ as MJ pt II like I would have liked (wearing a coat as part of your Halloween when you're always cold is like Christmas), but ... I'LL BE IN THE CITY I LOVE, WITH PEOPLE I'D DIE FOR, ENJOYING BEING ALIVE. I'll figure out a costume.
THOUGHTS:
- I still have the stockings and skirt I wore as a witch when I was working in Kindergarten at the Earth School in 2007 - how hard could it be to find a pointy hat?
- I don't have time for it, but with my hair ... if someone would help me... I would be a fucking AMAZING Marge Simpson. OOH WOW, I have a light green dress .... this is NOT good.
- I was thinking over the summer that I'd make a great tree. Simple and stuff. Brown pants, brown top (brown boots/), paint face green, wear my hair down and spray the hell out of it with green hair spray.... maybe make fake leaves to put on my arms, black construction circle on my belly for a squirrel hole...
What should I do?
Pictures -- Halloween
I typically just dress up for Halloween, and am never anything in particular, but I think I kinda looked like a show girl so I guess we can say that's what I was.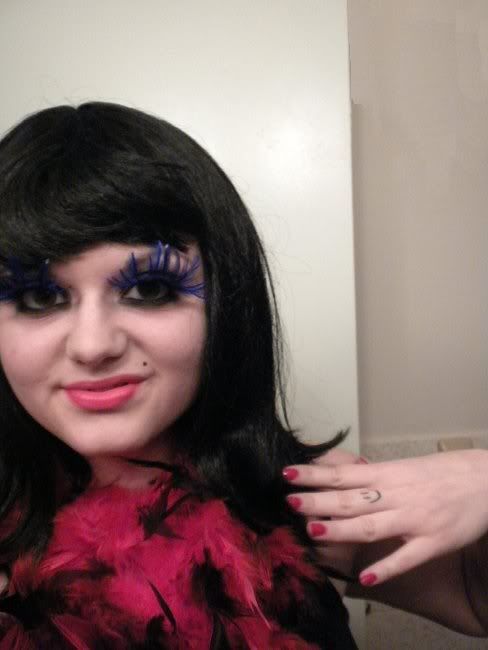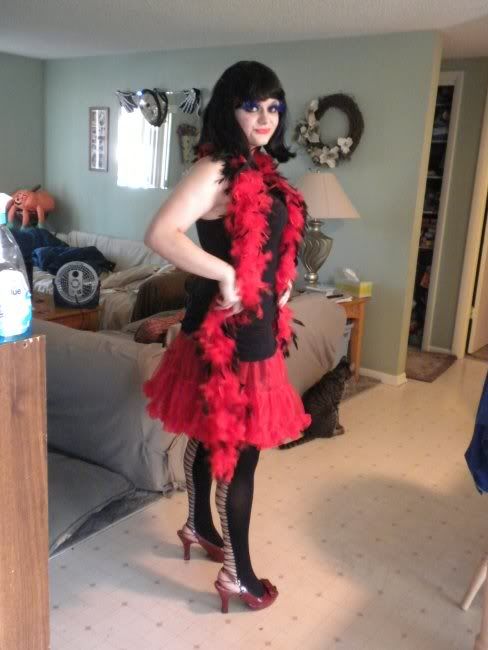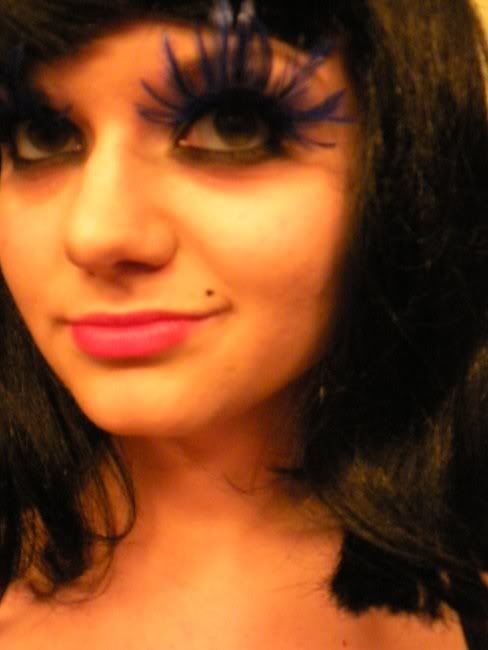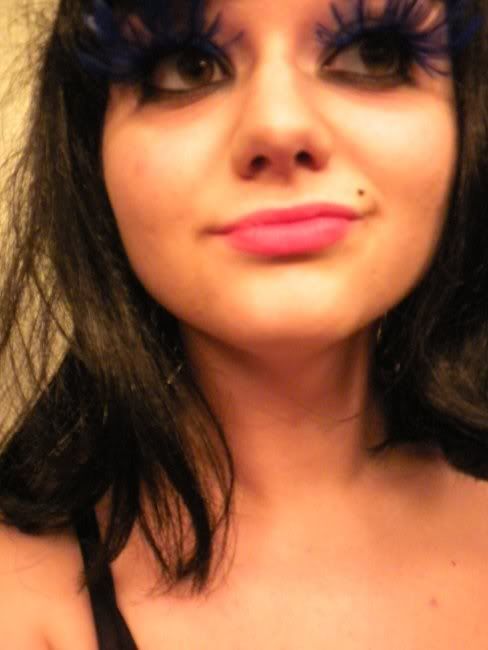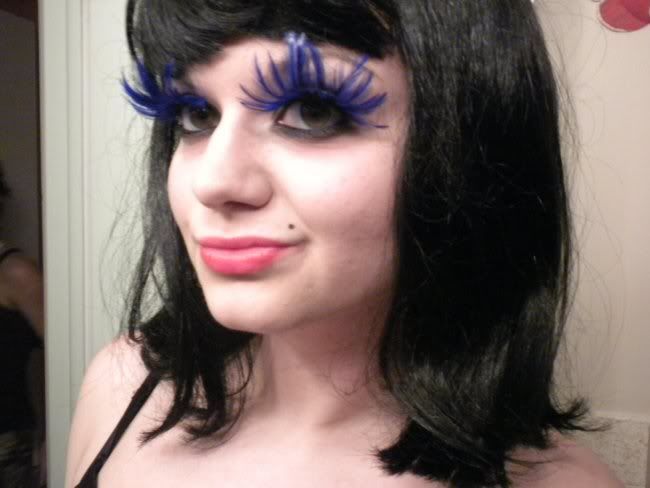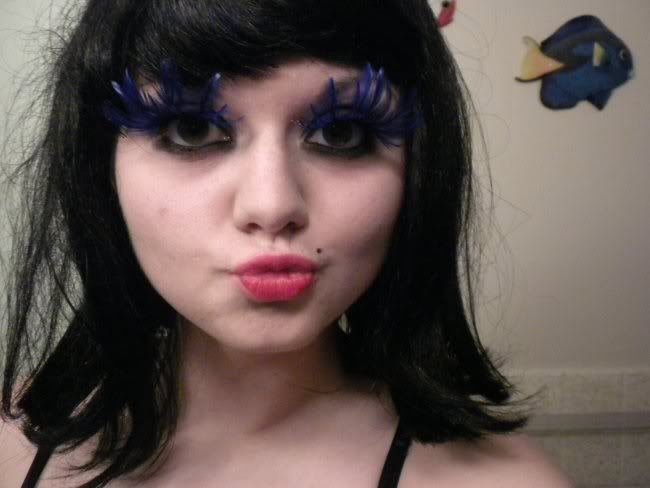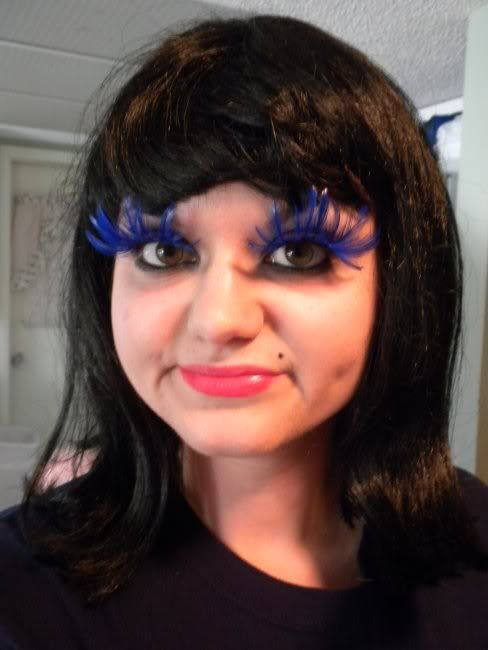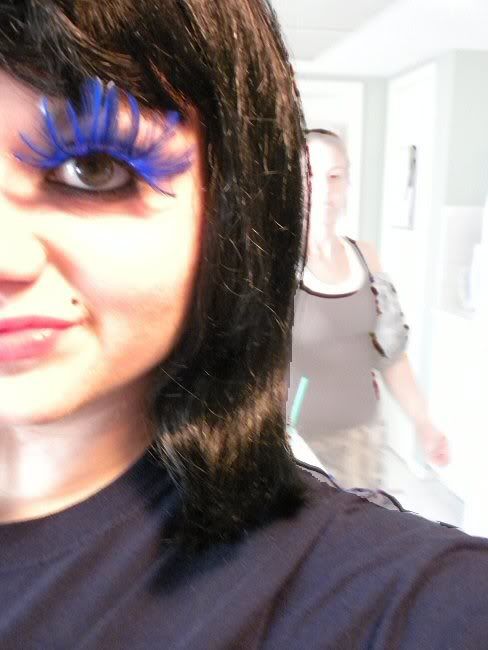 Bree was a cat, but I cut off her ears in this picture =/
Blurry<3 but Mikey Dish was Shaggy haha
Jill stopped by to visit (she had dressed up on Hallow's Eve and had no desire to dress up again)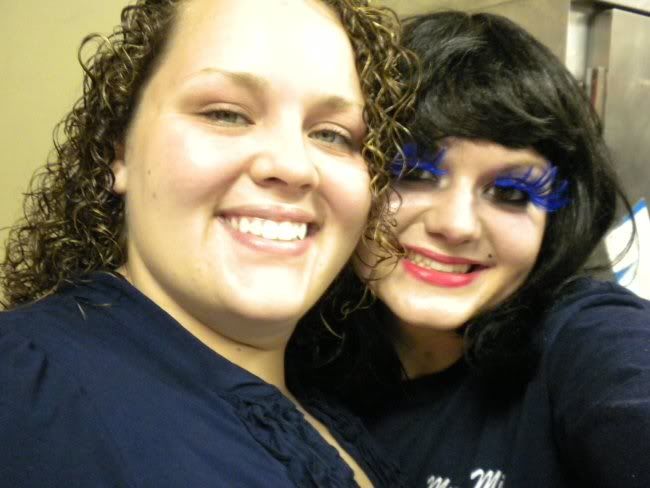 Jill tried to take these next two pictures, lol. I had to adjust my outfit to proper working conditions ;)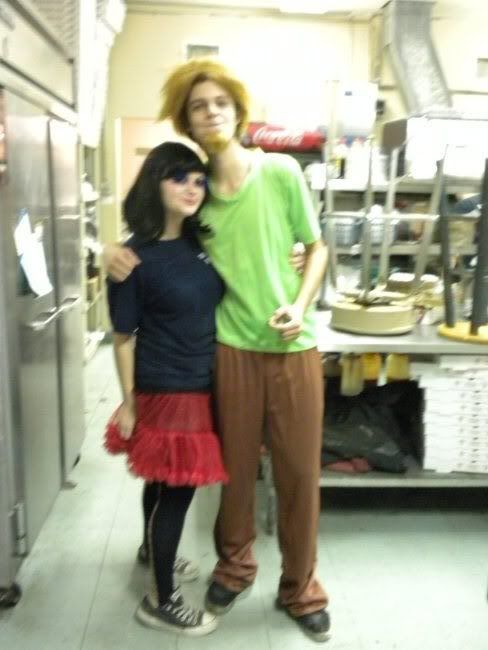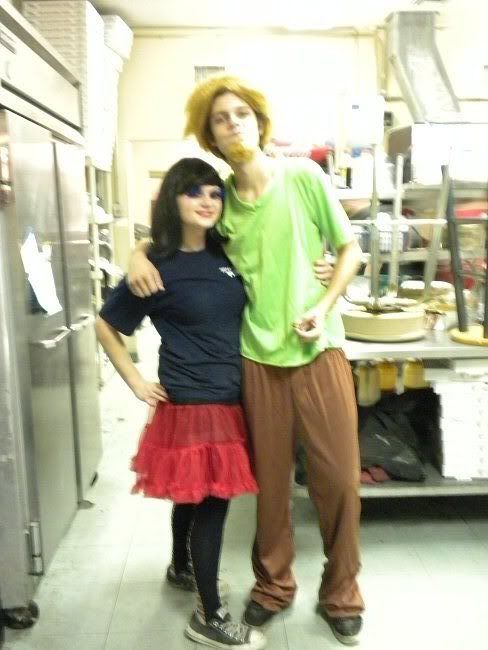 And no photo editing I promise; I love these pictures because I look like I have no body: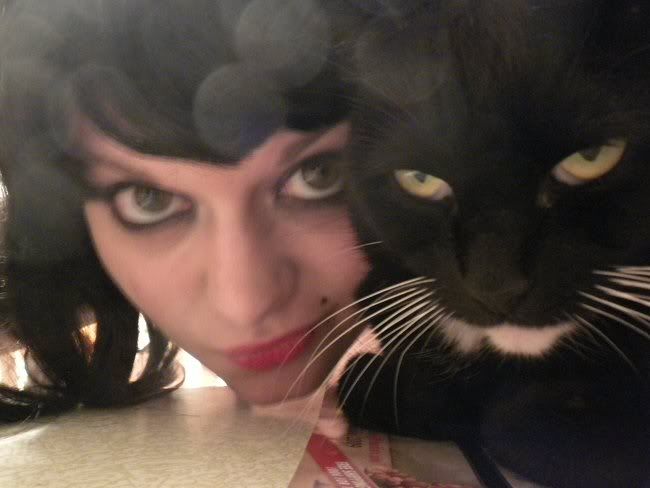 And then Lou: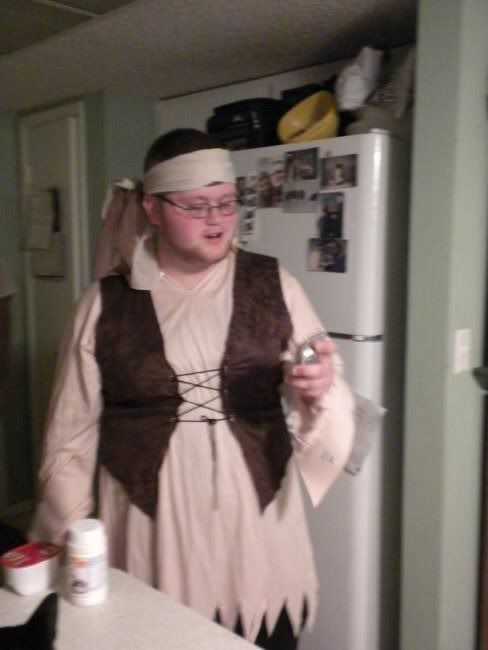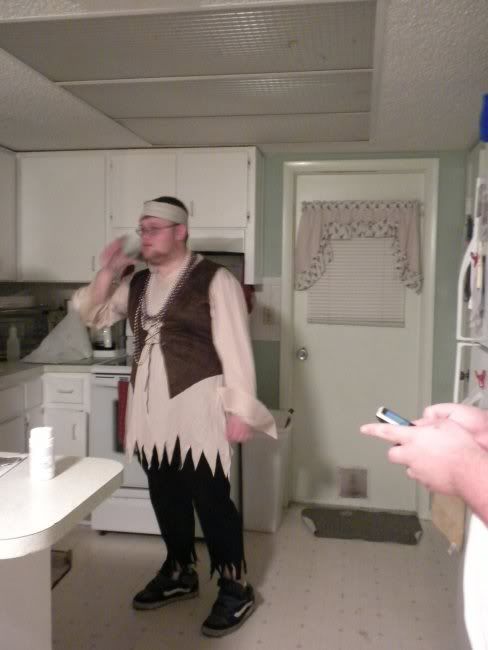 I stole these from Autumn but I just wanted to show you guys a drunk Lou ;)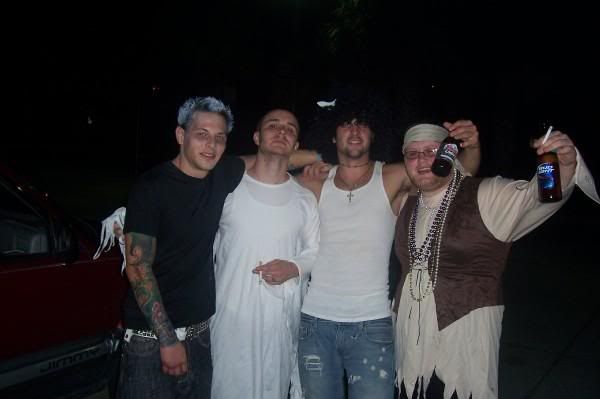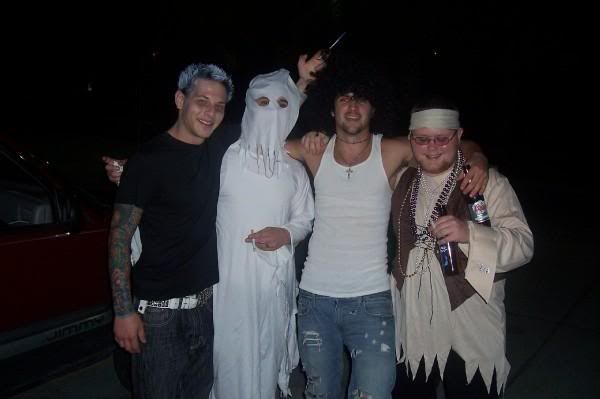 Showing 1 - 5. [
Next
]
Re: - I've read that they mean you want to get to know the person on an emotional/mental level. Not…